Simple Sig Tag Tutorial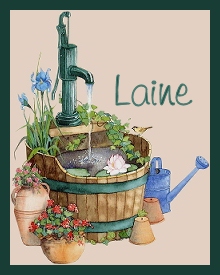 This is a tutorial for creating a very basic sig tag. This tutorial is written in PSPX.
Supplies: Garden Tag & Kayleigh Font
Download the zip file here
Tip: Too many fonts in your Windows folder can slow your system down
I would suggest that you create a Font folder in My Documents.
Also, to save your graphics and tubes, I would create a Tubes folder in
My Documents.
1. Unzip the supplies into a folder in My Documents labeled Simple Tag.
<![if !vml]>
<![endif]>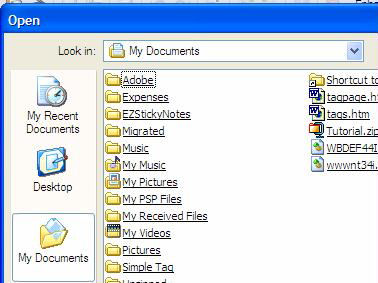 2. Move the Kayleigh font to your font folder. Open and minimize it to your task bar.
When you leave the font open, it will remain available in PSP until you actually close the
PSP program.
3. Open this tutorial and open PSP. Place your cursor in any open space in the bottom task
bar and right click. Select the option, Tile Windows Vertically and the tutorial and PSP
will be side by side. This is a easy way to work on tutorials.
4. Open PSP. Go to File/Open and go to the folder that you placed the Garden Tag in
and open the tag. When the Garden tag is open, hit the Shift D key. This will create
a duplicate of the original graphic. Close the original graphic and keep the copy
open to work on.
5. For the font color, I used for the foreground - #4C7b73 and the background #225449

Foreground

Background
6. Click on the Foreground – Make sure that the Color Tab is Clicked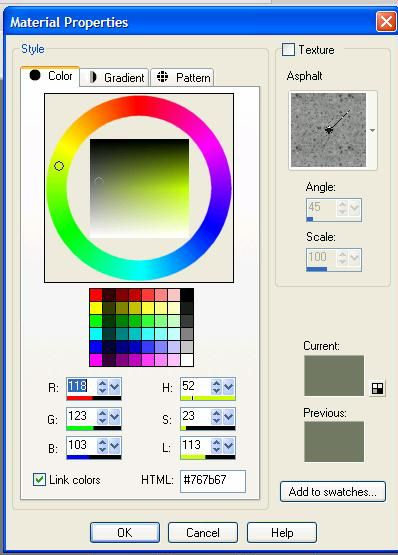 Change the HTML to #4C7b73
7. Click on the Background – Make sure that the Color Tab is Clicked
Change the HTML to #225449
Tip – To make sure that the color changes you must have the # sign included.
8. I create all my text by adding a Vector layer. I find that you have more control
over the placement of the text. So with that being said – let's create a new Vector Layer
You can go to the Menu – Select Layers

And New Vector Layer


9. This is what your Layer Palette found under the materials layer on the right side of you
screen should look like at this point.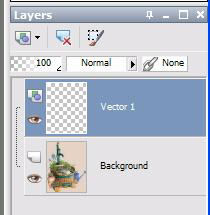 10. Change your font to Kayleigh – Size 48 Pixels. I have my stroke width set to 1.0

11. Next click on the Text Tool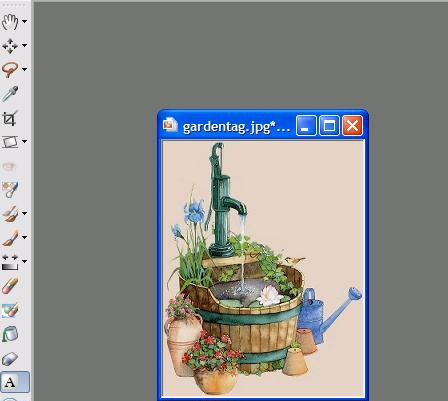 12. The Text tool box will appear – Type the Name that you would like on your tag
Click Apply.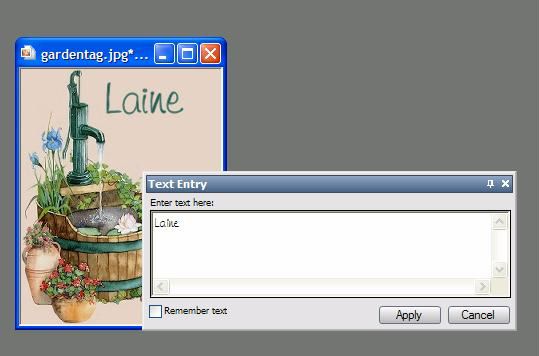 13. After placing the text where you would like it
You will notice the box around your text . You can use the little square to make your name larger or smaller depending on how many letters in your name and how much space you need.

You might have to use your Mover tool for placement of your Text. Click on this icon.
14. After you have your text placed, we are going to add a border.
Go to your toolbar – Image

Add Borders

You can choose another color for your border – I used #183d35.

To Change the color, click on the color box

Size in Pixels -10

Be sure that Symmetic is checked

Click OK
Wow – you have a completed Sig Tag
15. Now we want to export it as a .jpeg. Go to File – Export – JPEG Optimizer
Go to File

Export

JPEG Optimizer

Set Compression Value to 10

This will also show you how big your file

will be – Mine is 21,167 bytes

Click on Use Wizard
16. Name your tag and save in your My Documents folder.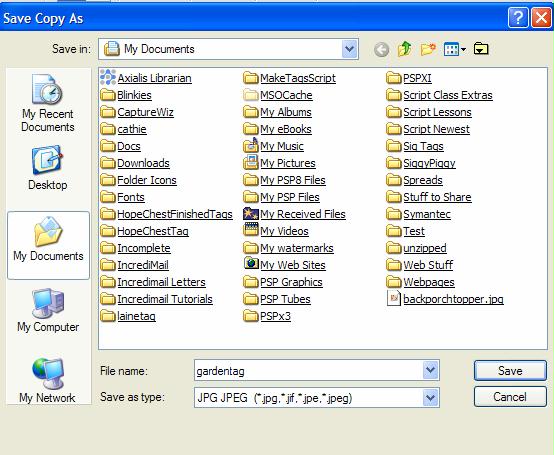 I hope you have enjoyed this tutorial. I would love to see your results
Please send your results to our group PSPX3.